Veneers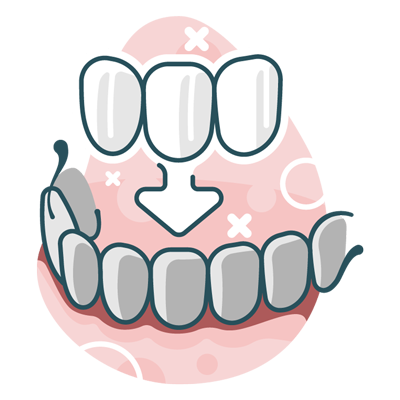 Smile Dental Studios Tarneit offer an entire range of cosmetic dentistry services to improve the aesthetics of a smile. If you feel your teeth are imperfected by discolouration, shape or size, dental veneers may be a solution for you.
Dental veneers are made from two types of materials – composite or porcelain. They appear similar to a thin shell which is bonded to the front of your tooth. Those who are undergoing a full set of veneers, will typically have them applied to the front six teeth.
Types of Veneers
There are two types of veneer materials available. Composite veneers are a more affordable option made from a white, composite resin. It's a filling-like material that is easily bonded to the surface of your tooth, without any invasive procedure. It isn't built as strong as a porcelain veneer but may be a great option for those with only small tooth imperfections or those on a lower budget.
Porcelain veneers are a durable, high-quality material. They are more premium to composite veneers and known to last much longer. They have a natural tooth shine to them and can be colour matched to your teeth. If you prefer to have a lighter shade than your natural tooth colour, we can do that to create you a brighter smile.
The first step to creating your new smile with dental veneers is to book a consultation with our friendly dentist. Your first consultation will involve us doing a physical examination and possibly X-rays if required. If you need other treatments before having veneers, we will discuss these with you first.
It's important to have healthy bone structure and strong teeth before veneers. If for any reason you are not a good candidate, we have a variety of other cosmetic dental services that may be more suitable.
On your first visit, we will take impressions of your teeth so we can create the veneers in our lab. Your veneers can be colour matched to your smile or made to be whiter to achieve your desired look.
You will be asked if you would like a local anaesthetic so we can prepare your teeth for the veneers. Some patients don't feel a thing, as we only gently shade off the top surface layer of your natural tooth, to make room for the veneer.
We then will apply a temporary veneer in place, while we wait for your permanent veneers to be completed approximately one week later. When you come in next after about one week, we will apply your permanent veneers and make sure you're 100% happy with your brand-new smile!
At Smile Dental Studios Tarneit, we encourage patients to take extra care of their veneers. They are not real teeth, so therefore more prone to be damaged over time if they are neglected. We will show you proper tooth brushing and flossing exercises so you can practice good hygiene habits at home.
You may also wish to purchase a nightguard which will protect them at night from any tooth grinding that may occur. It is possible, if you are a tooth grinder, that we address that first before your veneer treatment. We don't want to provide any treatments that are not in your best interests first, so we like to address any potential issues to prevent future damage.
Book Your Consultation Today
Ready to create your brand-new smile? Contact our team today to book your appointment. You're only one step away from a new you!
BOOK NOW

Veneers Tarneit VIC | (03) 9117 6800