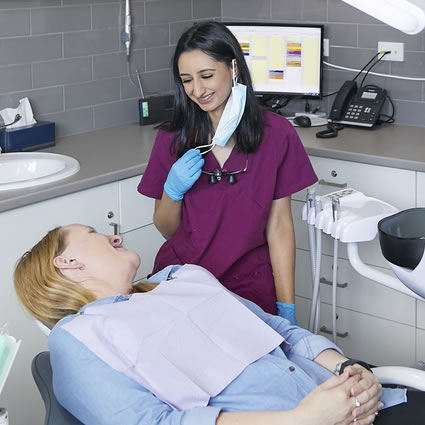 General Dentistry
At Smile Dental Studios Tarneit, we offer an array of general dentistry services to keep your teeth and gums healthy for life. We offer modern techniques and the latest technology to give our clients the best dental care.
Our experienced team have a preventative approach to dentistry and your oral health. We want to identify and treat any issues before they become more serious and costly for you.
Our range of general dentistry services include:
Checkup and Cleans
– We believe prevention is better than cure! We encourage patients to have six-monthly checkup and cleans. When you see us for a checkup and clean, we will provide you with a thorough dental examination, take X-rays and complete a scale and clean.
Fillings – If you have a cavity, you likely will require a dental filling. It's important to see us right away to prevent the tooth from becoming more damaged.
Extractions
– Extractions are sometimes required when a tooth is severely damaged and passed saving. Our team are gentle and effective when it comes to tooth removal. We also offer wisdom teeth examinations and extractions too.
Emergency dentistry
– We offer same-day emergency dental appointments. If you're in severe pain or have had an injury which has caused damage to your teeth, give us a call.
Gum Disease Treatment – Gum disease is caused by buildup of plaque. The gums become inflamed as a reaction to the plaque buildup on the teeth and gums. Overtime, the inflammation can damage your gums and in worst case, result in tooth loss. You may even find you experience gum bleeding. It's important we treat this right away and have your gums healthy again.
Teeth grinding – We can treat teeth grinding with our muscle freezer injection which relieves the tension in the facial muscles around your jaw. You may even experience headaches or migraines from clenching, which can also be treated. Give us a call if you're experiencing teeth grinding.
Children's dental care
– Our practice is completely child friendly. We want kids to have an enjoyable experience when they visit us, so we make their appointments fun and collaborative. We offer a variety of children's services such as gentle cleanings, checkups, fissure sealants, fillings and more.
Mouthguards – Do you play contact sports? It's important to protect your smile with a sports mouthguard. We offer custom sports mouthguards here at our practice. They fit snug to your teeth and are made perfectly to your smile.
Frequently Asked Questions
We accept all major health funds and have a HICAPs on-site for fast on-the-spot claims.
What's the difference between general dentistry and cosmetic dentistry?
General dentistry typically focuses on the health and wellbeing of your teeth, gums and mouth. Cosmetic dentistry services are used to improve the look of your smile. Some examples of cosmetic dentistry services include teeth whitening or veneers. However, both general and cosmetic dentistry are sometimes used together to create healthy smiles.
At Smile Dental Studios Tarneit, we want everyone to enjoy a healthy, confident smile. We offer flexible payment options at our practice so you can get your treatment now and not worry about the upfront costs. Our payment plans are spread over a period of time as instalments. Give us a call to find out more about our payment plans.
We understand you may not be able to fit in to see the dentist during the week. So, we're open for patients every Saturday. Give us a call to schedule your appointment.
Book Your Appointment
Contact our friendly team to book your appointment. Health funds accepted with fast on-the-spot claims. Call today!
BOOK NOW

General Dentistry Tarneit VIC | (03) 9117 6800