Emergency Dentist in Tarneit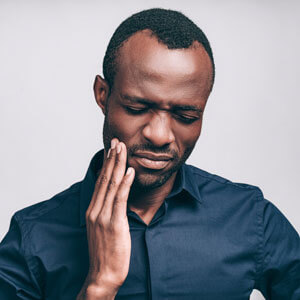 Dental emergencies can occur at any place, any time. The good news is, at Smile Dental Studios Tarneit, we offer same-day emergency dental. If you're experiencing severe pain or a damaged tooth, give us a call so we can see you as quickly as possible.
Types of Dental Emergencies
Some types of dental emergencies include:
A sporting injury causing tooth damage. If you've damaged your tooth from a sporting injury, give us a call right away. We will want to repair and restore the tooth and get you feeling comfortable again.
Broken or chipped tooth. If you have a broken or chipped tooth, we will restore its function with either a crown or cosmetic bonding. If the tooth is completely broken, it may need an extraction.
Tooth loss. If you've lost a tooth from it being knocked out in an accident, wrap it in some cling wrap and call us right away. You may want to take some over-the-counter pain relief while you wait to see us. Just make sure you follow the label and let us know what you've taken when you come in shortly after.
Severe dental pain. Tooth pain can be a sign of root canal infection. This is a common type of dental emergency we see at our practice. A root canal is caused by a buildup of decay, leading to a bacterial infection or an abscess. Call us right away to book your appointment. We will want to assess the area and treat it right away to prevent further damage.
Wisdom teeth pain. You may require an extraction if your wisdoms are impacting surrounding teeth. We will want to ensure they are developing exactly how they should be. If you're in severe pain, we encourage you to call us and come in for an appointment.
Cracked tooth. If you have a cracked tooth and are experiencing severe pain, give us a call. We'll get you out of pain as quickly as possible and restore your smile again.
Same-Day Emergency Dental
Call us right away if you're experiencing a dental emergency. We offer same-day visits and after-hours dental emergency advice. Call now!
CALL NOW

Emergency Dentist Tarneit VIC | (03) 9117 6800