Dental Implants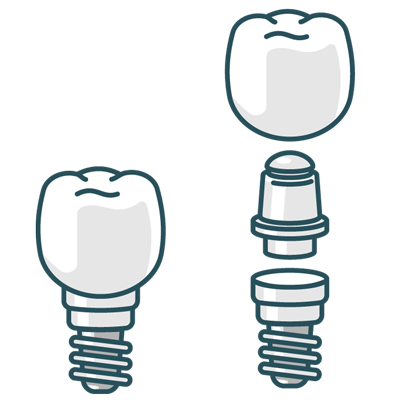 Do you have a missing tooth you've been wanting to restore? At Smile Dental Studios Tarneit, we offer an array of restorative dentistry solutions to repair and correct our patient's smiles. Our dental implants are made from the highest-quality materials. They are one of the most popular, durable solutions to missing teeth and they are available here at our practice.
The Benefits of Dental Implants
Dental implants are a premium restorative dentistry service. We offer these to patients who have one or multiple missing teeth who are looking for a long-term solution to restore their smile. Some of the many advantages of dental implants include:
They have a completely natural appearance and look just like your natural teeth
Implants have a high success rate
They are known for their long-lasting materials and durability
Dental implants can help maintain bone mass to prevent future tooth loss
You can eat and chew foods you love just like you would with a full set of teeth
They can replace a single tooth or multiple missing teeth
Implants can be colour matched and customised to suit your smile
At Smile Dental Studios Tarneit, we want to make your procedure as easy and comfortable as possible. The first step to restoring your smile with dental implants is to book your consultation with one of our dentists.
During your consultation, we will complete an examination of your mouth, teeth and gums and possibly take some X-rays. This will help us determine if you're a good candidate for implants. Implants may not be suitable for everyone. It depends on bone quantity, gum health and lifestyle. You will have the opportunity to discuss any questions you may have and walk away with a tailored treatment plan customised to you.
We take a lot of care in providing thorough advice and information regarding your options, so you feel confident in your treatment decision. Following your consultation, we will book your next appointment for oral surgery.
Our patient's experience at our practice is our number one priority. We want to ensure you are feeling relaxed and comfortable during your appointment. When you come in for your oral surgery day, our dentist will walk you through each step of the way and explain the process thoroughly.
When we complete the oral surgery, we administer a local anaesthetic, so you feel comfortable and relaxed. Most patients say they don't feel a thing! If you're feeling very nervous, let us know so we can help make you feel more comfortable. We will then complete the oral surgery and insert the implant into your jawbone. If for any reason your case is more complex, we may refer you to our specialist where your procedure may be done under general anaesthetic.
Once the simple procedure is complete, you will also be asked if you would like a partial denture to temporarily fill the missing tooth gap. This is only temporary, while we wait for your implant to heal and your body to accept the implant.
The third and final procedure is to have your dental crown or bridge affixed to the titanium screw. This typically occurs a few months later, once the implant has completely healed. You may have some small follow up appointments in-between, to make sure everything is healing the way it should be. We'll also give you a call every day to every few days to make sure you're feeling well, and your implant is healing as it should be.
You will now have a fully restored smile with a dental implant that lasts decades! We will go through at-home care and proper hygiene techniques so you can take good care of your new smile.
Restore Your Smile Today!
Not sure if dental implants are the right solution for you? Contact us to book your consultation. We offer Saturday appointments and payment plans for your convenience.
BOOK NOW

Dental Implants Tarneit VIC | (03) 9117 6800