Children's Dentistry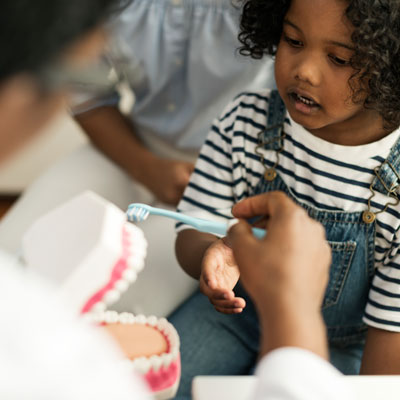 Smile Dental Studios Tarneit is your local, child-friendly dentist. We have a range of children's dental services available to help keep kids' teeth healthy for life! It's important to build good oral health habits from young, as it plays a big part in your child's future outlook to dentistry.
Creating a Positive Experience
At Smile Dental Studios Tarneit, it is our priority to give your child a positive, relaxed dental experience. From as young as one years old, you should start bringing your child in with you to your appointments. This is so we can desensitise dentistry to them from young and encourage a positive outlook to oral health.
We want to build rapport with children when they come in with their parents, so they trust us and have a fun experience every time!
When you first bring your child in for their dental visit, we will go over a dental examination. We love to give kids a positive experience when they visit our practice, so we have them be a part of the whole experience. They'll help us count all their teeth while we look inside their mouth and assess their teeth and gums.
It's our main focus to ensure they're feeling happy and comfortable during their appointment, so they want to keep coming back for future dental visits.
Our friendly dentist will also complete a gentle cleaning and make it as fun as possible for your child. If they require any other treatments such as a fissure sealant or filling, we can address these at your appointment.
Children's dentistry is very similar to adults. They'll need the same solutions that adults do such as checkups, cleans and fillings. They may also require certain services that are more common for children. At our practice, we have a full suite of children's dental services to care for your child's smile, including

Dental examinations
Gentle cleanings
Fissure sealants
Fillings
Children's orthodontics
Mouthguards
Are my child's baby teeth important, even though they will just fall out anyway?
Even though your child's baby teeth will fall out, they provide the framework for their adult teeth as well as jaw development. The baby teeth help to make sure the correct spaces are present, as well as assist their speech development and chewing foods.
It's important that we see your child with their baby teeth, not only to ensure their development is on track, but to also get them used to coming to the dentist.
When should I start cleaning my child's teeth?

Even before the teeth start to form, you can clean their gums gently with a warm damp cloth. When they start to develop teeth, purchase a soft child's toothbrush to brush them daily. Remember, soft and gentle circular motion is the right technique.
Do you accept children under the Medicare Child Dental Benefits Schedule (CDBS)?

Yes, we do! This government schedule grants up to $1,000 of dental cover for eligible children aged 2-17 years old, over two consecutive years. For more information, head over to the Medicare CDBS website.
Book Your Child's Visit Today!
Contact us to book your child's dental appointment. We accept all major health funds and have a HICAPs on-site for fast on-the-spot claims. Saturday appointments available. Call today!
BOOK NOW

Children's Dentistry Tarneit VIC | (03) 9117 6800