Restorative Dentistry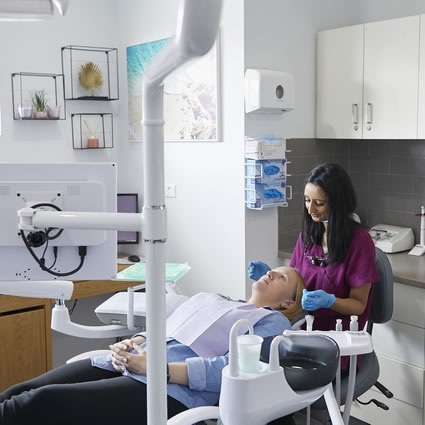 At Smile Dental Studios Tarneit, we offer a range of restorative dentistry services to restore your smiles function and appearance. Our practice features modern technology and a skilled team experienced in restoring smiles back to life.
If you've experienced a dental emergency or have damaged teeth, we can provide you with the services to restore your teeth back to optimal health.
Your Restorative Dental Consultation
If you're not entirely sure what dental service is best for you, we're here to guide you during your consultation. It's common for patients to not be sure on what treatments would be best for them following tooth damage or loss.
Our friendly dentists love working with patients and providing them with a range of options to get their teeth healthy again. When you come in for a consultation, our dentist will sit down with you and discuss your concerns. We'll provide you with a dental examination, X-rays (if required) and a customised treatment plan.
Our Range of Restorative Dental Services
Dental fillings – If you have a cavity, you will require a dental filling to prevent further damage and relieve discomfort. Leaving a cavity untreated can lead to tooth cracking, plaque buildup and severe dental pain. We offer gentle white tooth-coloured fillings at our practice. Our dentist takes time with every patient to offer a comfortable and relaxed dental care experience.
Dental Implants
– Missing a tooth or multiple teeth? We can restore your smile with our state-of-the-art dental implants. Implants are known around the globe for their premium tooth replacement purpose. They have a strong titanium screw that is placed into the jaw just like a normal tooth. Your procedure is completed with comfort and ease.
Dentures or Partial Dentures – If you're missing teeth, a tried and tested tooth replacement option are dentures. We also offer partial dentures to replace only a few missing teeth.
Dental Bridges
– Dental bridges are a tooth replacement solution. They bridge the gap of a missing teeth or multiple teeth in a row. Your neighbouring teeth must be strong and healthy to keep the bridge in place for many years to come.
Dental Crowns – Damaged, cracked and worn-down teeth can lead to severe tooth decay, pain, and nerve damage. We want to address these concerns right away before they lead to more costly and serious oral health conditions. Dental crowns are a great way to protect and restore a tooths natural function. They also bring cosmetic benefits and are colour matched perfectly to your smile.
Book Your Restorative Dental Consultation!
Contact us to book your consultation with our dentists. We accept all major health funds and offer flexible payment plans, so you can smile now and pay later. Call today!
BOOK NOW

Restorative Dentistry Tarneit VIC | (03) 9117 6800