Extractions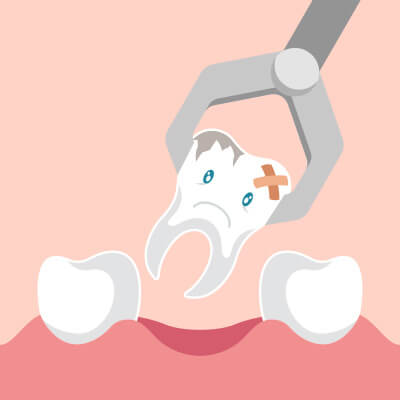 At Smile Dental Studios Tarneit, we can provide your entire family with quality dentistry they can trust. Our patient-focused clinic puts you first. Along with our wide range of services and a highly experienced team, you're in the best hands for your dental care.
In some cases, you may require a tooth to be removed. This is one of the most common general dental procedures that can be completed in a single visit.
We have a preventative focus to dentistry, so we want to try and avoid extractions where possible for patients. Sometimes, however, it is the best solution to a severely damaged or broken tooth.
When a tooth extraction is required, it can be caused by a number of reasons. Below are some of the reasons you may need a tooth removed:
A dental emergency occurred which caused your tooth to break
You have an impacted wisdom tooth
You've experienced a sporting injury
Before starting orthodontic treatment
You're experiencing severe toothaches
You're undergoing a full mouth rehabilitation
You have severe periodontal disease
At Smile Dental Studios Tarneit, it is our main focus keep our patients' comfortable and relaxed during their procedure. When you require a tooth extraction, we want to get you out of pain as quickly as possible. We'll offer a local anaesthetic, so your extraction is comfortable, quick and effective.
Our practice has a calm and relaxed atmosphere, so you can rest in the chair comfortably while your dentist talks you through the process. If you feel more at ease with a friend, feel free to bring them along with you to your appointment.
Are your wisdom teeth causing you discomfort? It's important to have this addressed by our dentist. Our team are experienced in extractions and wisdom teeth examinations. We'll want to take X-rays and ensure your wisdom teeth are developing exactly how they should.
If you have teeth impacted from your wisdom teeth, you may need to have them removed. We can do this for you right here in our practice. If for any reason your wisdom teeth are more complex, we may need to refer you out to our specialist to have them removed under general anaesthetic.
We offer a range of tooth replacement solutions. When you come in for your extraction, we'll assess the surrounding teeth and check they are strong and healthy. If they are, you may consider a dental bridge.
A bridge, just like the name suggests, spans the gap between teeth where one has gone missing. They are made from a few different materials that give varying results and are colour matched to your smile. A bridge can replace a single missing tooth or multiple in a row.
We also offer dental implants at our practice. Implants are a state-of-the-art tooth replacement solution. Built with the highest-quality materials and a strong titanium screw which acts just like an ordinary tooth. Dental implants can last a lifetime, especially when they're taken good care of.
We can go through your tooth replacement options during your appointment. We also offer payment plans so you can get your treatment now and pay later.
Book Your Appointment Today
If you think you may need an extraction, give our team a call to schedule your appointment. Our team are gentle, caring and ready to look after your smile. Health funds accepted.
BOOK NOW

Extractions Tarneit VIC | (03) 9117 6800