Orthodontics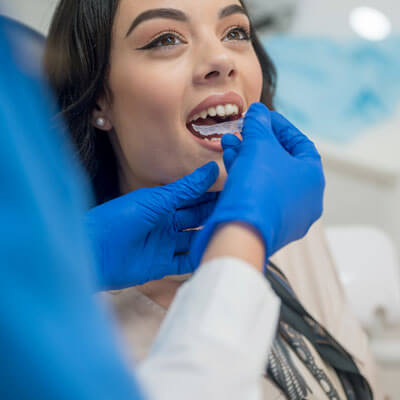 At Smile Dental Studios Tarneit, we want to make sure that you love your smile. If you're dissatisfied with the way your teeth look, our professional, experienced team are here to help you determine which treatment options are right for you. We offer a broad range of options and will go over them with you so that you can get the smile of your dreams.
If you are interested in orthodontics, we offer traditional braces, Quick Straight Teeth and Invisalign®. Braces are for people with many different concerns about their teeth. They are capable of straightening crooked teeth and can help your jaws and chewing muscles grow into a good bite. You'll love the way your smile looks after having orthodontic treatment!
You Might Be a Great Candidate
There is a simple requirement that you must meet before embarking on orthodontic treatment: to be in good oral health. That means if you require a cleaning, a filling or any other form of treatment first, we will make sure you get that. Afterwards, you can begin your orthodontic treatment.
Orthodontics will address a wide array of concerns about your teeth, such as
Crowding
Gaps between teeth
Overbite
Underbite
Crossbite
Open bite
Misaligned teeth
Frequently Asked Questions
Which ages can have orthodontic treatment?
Orthodontics is appropriate for adults and teens alike. In more recent years, adults who should have had orthodontics as a child are now taking the step of straightening their smile through orthodontics. It's never too late!
What types of orthodontic treatment do you offer?
We know that everyone's needs are completely unique, even when it comes to orthodontics. We offer traditional braces, Quick Straight Teeth and Invisalign to suit your particular needs.
How long does orthodontic treatment take to complete?
The length of your orthodontic treatment will depend on a few factors, including the shifts that we need to make in your teeth and how severe your issue is at the start of treatment. A minor change could take just a couple of months. More complex cases might require two years.
Yes. Quick Straight Teeth is a clear dental brace system. Invisalign involves wearing sets of clear aligners. Both will shift your teeth into the desired position without unsightly metal braces that might make you feel self-conscious.
How do I know which orthodontic system is the best choice?
The best way to find out is to book in for a consultation. We'll sit down and discuss which orthodontic system is most appropriate for you based on our evaluation of your teeth and a discussion of your needs.
Find out by scheduling for a consultation with us. Our team will meet with you to examine your teeth and make their recommendations about which treatment is right for you.
I have a busy schedule. Can you accommodate me?
Yes. We have extended opening hours that make it simple for you to book in. You'll be able to schedule your appointment after your workday. Or if you're scheduling for your child, we can accommodate them after school hours.
Check Out Our New Patient Special
If you have never been to our practice before, we would like to extend a special offer to you. You'll pay $199 for your first visit, which includes a consultation, checkup, cleaning, X-rays, fluoride treatment-everything you need to show off a shining, healthy smile. Contact our team now to book your appointment and discover whether orthodontics Tarneit is right for you!

Orthodontics Tarneit VIC | (03) 9117 6800