Dr Branav Kanaga (Principal Dentist)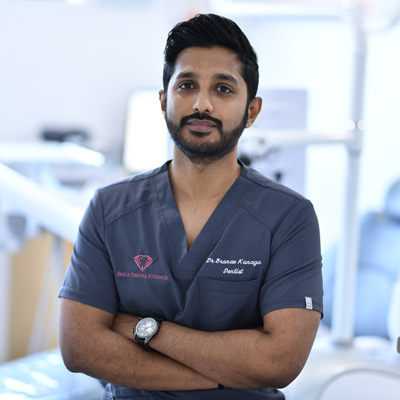 There's a mental and physical component to true health, with Dr Branav knowing how important it is to incorporate both into his patient care. With an affinity for the artistic aspect of dentistry, he also seeks to help you improve your wellbeing and love the way your smile looks.
Dental Education and Training
Dr Branav attended the University of Leeds in the UK, graduating in 2011. Dr Branav is dedicated to updating his skills and as a result, has completed several postgraduate programmes, some of which include PGCert in Advanced General Dental Practice and PGCert in Cosmetic Orthodontics. He is also an accredited Invisalign® and Quick Straight Teeth™ provider. So whether you are looking for good general dental care, fixed braces or removable appliances, Dr Branav has the skills to help.
Enjoying Patient Interaction
Meeting patients and finding out their dental goals is one of the things that drives Dr Branav. Here, you'll never be considered a number but instead a valued patient. He will take the time to get to know you and the oral health and smile goals that you'd like to achieve.
EXPLORE OUR SERVICES

Outside of Dentistry
Outside of dentistry, Dr Branav loves cars and soccer. He is a huge Arsenal FC fan. Whenever he gets the opportunity he loves to travel.
We're available later in the evenings for regular appointments and welcome emergency cases to call at any time. Contact our team now!

Dr Branav Kanaga (Dentist) | (03) 9117 6800